Sustainability and Social responsibility
Our company is an integral part of society. That is why we accept responsibility and act in an ecological and socially sound manner.
The Host Europe Pro-climate Hosting Program
Consistent, environmentally friendly hosting makes Host Europe a pioneer in terms of Green IT. We make a huge effort to reduce the CO2 content of the atmosphere by minimizing our energy consumption and work at the the highest level of energy efficiency.
Energy Efficient Hosting
The two data centres in Cologne and Strasbourg, where we provide our services, are operated for maximum energy efficiency with renewable electricity. We use the latest technologies which results in a 25% higher energy efficiency compared to conventional data centres.
Energy saving hardware
Host Europe relies on hardware from leading brands and we use the largest virtualisation provider in Europe and aim to implement more virtualization technology where it is reasonable and feasible. This guarantees outstanding performance for professional applications and increases the energy efficiency of our servers.
To-end commitment
We are committed nationally in an eco-Working Group Data Centre and internationally at Climate Savers Smart Computing. We are therefore actively involved in the improvement of energy efficiency and the development of quality standards for data centre operations.
Long-term Entrepreneurial Actions
Sustainability has been an integral part of our company philosophy from the very beginning and, since 2009; it has been an official part of Host Europe\\'s internal corporate guidelines. Particularly for us as an energy-intensive company, it is particularly important that the future of the next generations will not be adversely affected by our actions today. This of course includes the systematic effort to keep our CO2 emissions as low as possible.
Energy Audit 2017
CO2-Emissions, EDV/IT and lighting are the three essential areas for which we have identified in spring 2017 our energy - saving and climate protection potentials in an energy audit according to the German Institute for Standardization EN 16247-1. We are continuously working on the implementation of suitable measures. But we do not want to limit our efforts to the field of energy saving, but instead want to make economies everywhere where it is possible and sustainable for us.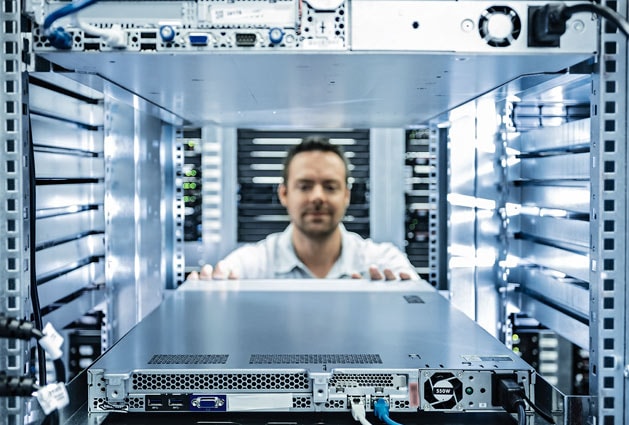 Only those who empower their employees can look to long-term success.
We consider our employees as people and not as human resources. Together, we have made the success of this company possible. It is therefore only fair that our relationship is always based on an equal footing. We wish to encourage long-term loyalty to the company from our employees and want to allow them to continuously develop their professional competences. We are also committed to the reconciliation of work and family life – e.g. by offering flexitime.